A New Hampshire native, Peter Floyd came to Boston as a student and has lived in the city for all his adult life. A graduate of the Massachusetts Institute of Technology, with a degree in political science, Peter has worked as a library aide, a graduate admissions officer, a software quality engineer, and (currently) a programmer for a medical software company based in Cambridge.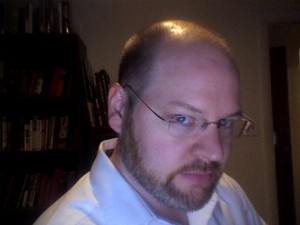 Peter has been involved in a number of local theater groups as an actor and director. Such groups include the MIT Community Players, Theater at Old South, the Quannipowitt Players in Reading, and the Hovey Players in Waltham. Among his favorite roles are Henry Carr in Tom Stoppard's
Travesties,
Doolittle in G.B. Shaw's
Pygmalion,
George Spelvin in Christopher Durang's
The Actor's Nightmare,
Bottom in William Shakespeare's
A Midsummer Night's Dream
and Parolles in Shakespeare's
All's Well That Ends Well.
He has directed several short plays by David Ives, as well as Wilde's
The Importance of Being Earnest.
Peter's playwriting career began with the short play "The Little Death," which premiered at MIT in 2005. It subsequently appeared in the Playwrights' Platform Festival the following year, where it won the Audience Choice award for best play. It has since been published by Heuer Publishing. Peter's second play, "Possibilities," was presented at the 2006 Boston Theater Marathon.Other plays he has written include "Objective" (Devanaughn Theatre's Dragonfly Festival, 2007), "Big Eddie" (SLAMBoston, 2008), "The Green Room" (New England Fringe Festival, 2009), "Perspective" (Boston Theater Marathon, 2009; Playwrights' Platform Festival, 2009), "Cracking Up" (Exquisite Corp Theatre, 2009), "The Yowl of the Wild" (Playwrights' Platform Festival, 2010) and "Tow Lot" (The Seven Deadly Sins  Festival at the Capital Center for the Arts, Concord, NH in 2010). A filmed version of "Perspective" was shown on Newton (MA) Cable Television.
In 2010 he began his studies in the playwriting MFA program at Boston University, where his instructors included Kate Snodgrass, Ronan Noone, Melinda Lopez, and Richard Schotter. Over the course of his time at BU, he developed his first full-length play, Absence. Peter received his Master of Fine Arts in January of 2012. In February 2012, Absence was named co-winner of the Kennedy Center's Jean Kennedy Smith Award. Later that year, it was named a finalist for the Alliance Theatre of Atlanta's Kendeda Award. The play had two readings at the Alliance in 2013, and in January 2014 had a reading presented by the Midtown Direct Rep theater company of South Orange, New Jersey, with Olympia Dukakis playing the leading role. The play received its first full production at the Boston Playwrights' Theatre in February-March 2014, and it's first international production at the Oslo Nye Trikkestallen in Norway in September-October 2015.
In the summer of 2012, Peter developed his play The Centipede King at the MFA Playwrights' Workshop at the Kennedy Center in Washington, D.C. The play had a reading in Boston in December 2012, sponsored by Vagabond Theatre Group. Peter was selected as one of four New Voices @ New Rep Playwriting Fellows for 2012-13, sponsored by the New Repertory Theatre of Watertown, MA; for this program he wrote the play Protocol.
Peter was a member of Playwrights' Platform of Boston from 2005 to 2010, and joined the Dramatists' Guild in 2011. He was a board member of Exquisite Corps Theatre from 2009 to 2010.
Awards and Honors:
Nominee, 2015 IRNE Award, Best New Play — Small Theater (Absence)
WBUR Best Theater of Boston 2014 (Absence)
Nominee, 2014 Eliot Norton Award, Best New Script (Absence)
Finalist, 2012 Kendeda Graduate Playwriting Competition, Alliance Theatre Company (Absence)
2012 Jean Kennedy Smith Award, Kennedy Center American College Theater Festival (Absence)
Regional Semifinalist, 2012 Kennedy Center American College Theater Festival ("Beleaguered")
Fringe Favorite, 2010 New England Fringe Festival ("End of Messages," as part of A Brush with Death)
Runner-Up for Audience Choice for Best Play, Runner-Up for Playwrights' Choice for Best Play, 2010 Playwrights' Platform Annual Festival ("The Yowl of the Wild")
Producer's Award, 2009 New England Fringe Festival ("The Green Room")
Audience Choice for Best Play, Playwrights' Choice for Best Play, 2009 Playwrights' Platform Annual Festival ("Perspective")
Best Play, Fall 2008 SLAMBoston ("Big Eddie")
Audience Choice for Best Play, Runner-Up for Playwrights' Choice for Best Play, 2006 Playwrights' Platform Annual Festival ("The Little Death")
Published Plays:
"Tow Lot" in The Seven Deadly Sins: A Collection of New Plays, Ghostlight Theater Publications, Salem, NH
"Perspective" in Boston Theater Marathon XI: 2009 Anthology, Smith and Kraus, Hanover, NH
"The Little Death," Heuer Publishing, Grand Rapids, IA