The Scandinavians, it seems, cannot get enough of Absence (this is the part of the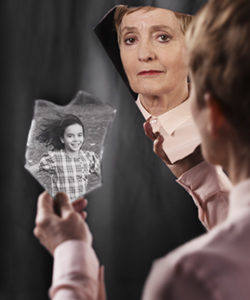 world that gave us Ibsen and Strindberg, so they do their depressing plays). The play is getting revivals of its productions in both Norway and Sweden this year.
As Fravær, the play opened in at the Oslo Teater Nye in Oslo (where else?) in September of 2015. The play had a successful run, with great crowds and positive reviews, and the theater is now, two years later, producing it again with mostly the same cast, including Marit Østbye reprising her wonderful, Hedda Award-nominated performance as Helen. The revival opened on August 23 (which is my birthday, just sayin') and will run through September 22. Click here to order tickets.
In Sweden, the play (known as Försvinnandet) was produced by Dalateatern in Falun this past winter/spring (from February through April). This fall, it goes on tour through the country sponsored by the Riksteatern, starting with a performance in Surahammar on October 2 (I plan to be present that evening) through November 23. Click here to get a full schedule and to order tickets.
I'm humbled and honored (and actually a bit giddy) to have the play come back to Norway and Sweden. It's a real sign that Helen's situation is one that we all face eventually, whether through family, friends, or our own selves.
Fravær
Oslo Nye Trikkestallen
Oslo, Norway
August 23 – September 22
Försvinnandet
Riksteatern
Many towns, Sweden
October 2 – November 23