On Wednesday, April 26, there will be a one-night-only presentation of Absence  at the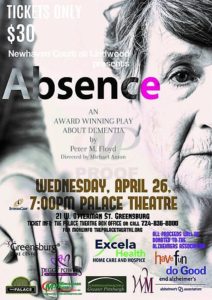 Palace Theatre in Greensburg, PA, presented by the Newhaven Court at Linwood, an assisted living facility. The production is directed by Michael Anton, and feature Linda Stayer as Helen Bastion.
All proceeds from the show will be donated to the Alzheimer's Association.
Here is a link to a press release about the production, including an interview with the director.
The play starts at 7:00 PM at the Palace Theater. Tickets may be purchased here, or by calling the box office at 724-836-8000.
Palace Theatre
21 W. Otterman St
Greensburg, PA 15601.
April 26, 2017
Update: Before the show went up, I was interviewed by Shirley McMarlin of the Greensburg Tribune-Review for an article about the production.