In the fall of 2015, Absence crossed the briny Atlantic and made its European debut (as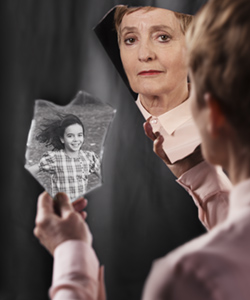 Fravær) at the Oslo Teater Trikkestallen in Norway.
I'm pleased to announce that the play, a first-person chronicle of one woman's harrowing experience with dementia, will be returning to that side of the world with two productions going up in February 2017.
The first of these will be put on by Dalateatern, a theater company based in Falun, Sweden.  Under the name Försvinnandet, and translated by Eleanora DeLoughery Nordin, it will be directed by Åsa Edberg and open on Saturday, February 11. After a three-weekend run in Falun, it will be taken on tour throughout Sweden over the spring.
A week after the Falun opening, the play will come to Mantua, in Italy, courtesy of the Teatro Campogalliani. There, it will be called Assenze, with a translation by Antonia Brancati, and directed by Mario Zolin. It will run from February 19 through March 26.
Försvinnandet
Dalateatern
Falun (and elsewhere), Sweden
February 11 – April 5
Assenze
Teatro Campogalliani
Mantua, Italy
February 19 – March 26