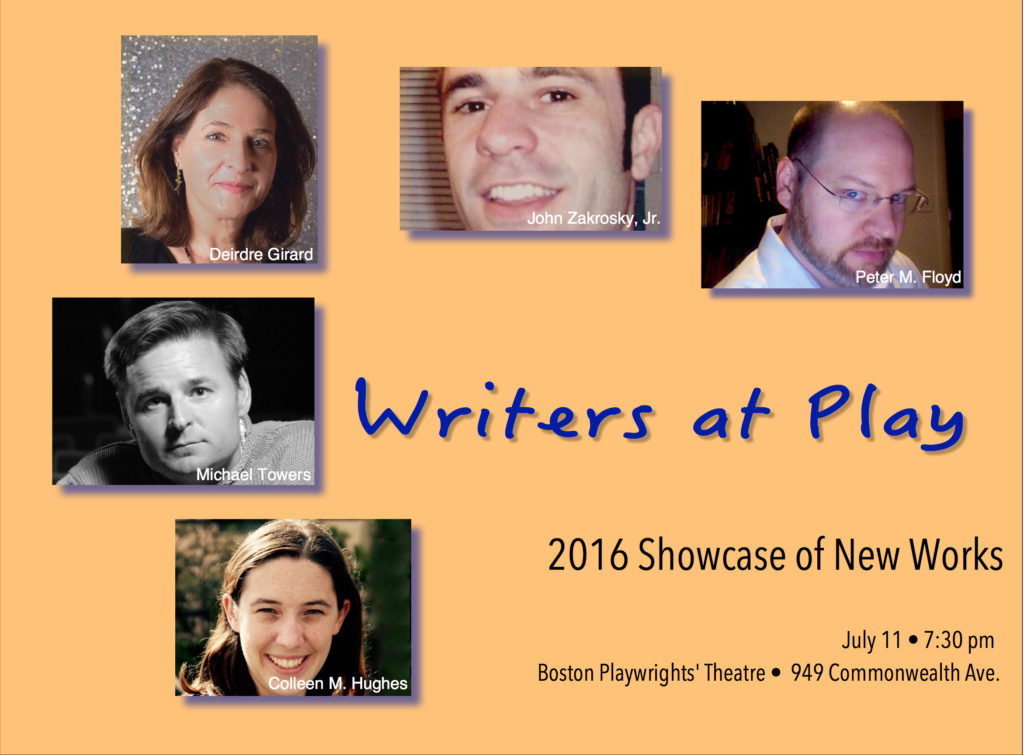 Writers at Play:
2016 Showcase of New Work
Monday, July 11, 7:30pm. FREE
Boston Playwright's Theatre
My playwriting group, Writers at Play, will be having its second annual showcase of new works on Monday, July 11, at the Boston Playwrights' Theatre. We will presenting scenes for the plays we have been working on over the past year, read by professional actors (who have been reading the pieces as they've progressed). Please join us for an evening of brand-new, cutting-edge theater!
After by Peter M. Floyd: One of the few remaining people in a post-apocalyptic world, Parker is convinced that there is a conspiracy afoot among the leaders of the community of survivors. Is she right or is she crazy? How about both?
Shaken by Deirdre Girard: Beth's been living under an assumed name in rural Vermont, finally finding peace and maybe even love, after fleeing Boston eight years earlier in the wake of her imminent arrest for a horrific crime. But when her sister Jasmine unexpectedly shows up armed with a law degree and breakthrough medical research, the two women begin a journey that explores the nature of truth and justice in a biased world — a journey that will change their relationship forever.
The Travellers by Colleen M. Hughes: Bri is seventeen and desperate for adventure. Her wish seems to be coming true when she meets the Traveller, a mysterious woman who can travel through time. But who is the Traveller, and why does she seem to care if Bri patches up her relationship with her mom? A play about the past, present, and future, what happens when you try to change them — and what happens when time starts to fight back.
The Comfort Kills by Michael Towers: Music has always been Brendan's salvation but with the death of his father, he is unable to write — a condition which puts additional stress on his marriage. Performing in a local dive bar, Brendan meets an unlikely muse who inspires his music and his healing but drives a wedge between him and his wife.
The Kitchen and the Volcano by John Zakrosky, Jr.: A sister and brother may only have one last phone call together before a volcano erupts, destroying their family's past.
Monday, July 11 at 7:30 PM
Boston Playwrights' Theatre
949 Commonwealth Ave., Boston